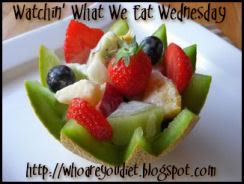 JUST CLICK THE BUTTON/PICTURE ABOVE TO GO DIRECTLY TO THE FOUNDER OF THIS GREAT NEW MEME!

(If you want the button above, just go to my sidebar and copy the code under the Watchin' What We Eat Wednesday picture and paste that code onto your sidebar or in a post! Let's all help promote this great new MEME of
Lories
!!)
I've posted this recipe before, but never for Watchin' What We Eat Wednesday. I have family in town, so I'm limited on my time to post, so hopefully you all will enjoy! :) It's delicious!!
I made this again last night and it was a HIT with not only my family, but the extended family we have visiting! Plus, there were leftovers and these re-heat really well!
Chicken Enchiladas (sorry, forgot to take a picture)
10 Mission Carb Balance Soft Taco Size flour Tortillas
. 
 (these are only 110 calories each with 11 grams of FIBER!) According to the WW slider, these are 1 pt. If you do the points calculator  found online, the points come to zero. The reason for this is WW puts a cap on fiber at 4 grams. So, do as you wish. I calculated them as 1 "small ;)" point  each. I LOVE that they have SO MUCH FIBER and they taste awesome. SO MUCH LIKE THE REAL thing, it's scary! ha ha. Oh and Mission has Carb Balance tortillas in all sorts of sizes. Some of them are brown instead of white, but they taste just as good! I went with the white ones since they "look" more  like the real thing, thus fooling my family even more ;)
 1 20 oz. can of Enchilada sauce
. - 
I used Rosarita Mild Enchilada Red Sauce. (it's our favorite) and it's 20 calories per serving and has 1 gram of fiber in that. 
2 cups of shredded cheese
- 
I used the 2% milk Kraft Mexican Style shredded cheese. Now in this step, you obviously could use more cheese than I have here by using a fat free version or the WW cheese. I didn't have either of those on hand, so I used what I had. Just calculate your points accordingly.
-chop and sauté  a cup of onions and add them to the enchilada sauce before putting the dish together.
-add some white rice or spanish rice into each of the tortillas as you make them. (BE SURE TO ADD THE POINTS ACCORDINGLY!)
-you can add black olives
-it's yummy to add salsa on the top of these when done and that doesn't add any points!
-you can also add salsa in with the chicken to give it some extra flavor and will help out if you reduce the amount of cheese you may need or if you use a lower fat/calorie cheese.
-you can add a dollop of sour cream on top of your enchiladas when done cooking. Fat free wouldn't even add any points if you kept it to 1-2 tablespoons of the fat free sour cream. Or add 1 pt if you use light sour cream. :)
-Preheat oven to 350 degrees
-Cook the chicken until cooked through and chop/shred. I boil mine and then put in a food processor to chop it up. (so much quicker that way and you don't have to wait for it to cool down so you don't burn your fingers trying to shred it).
-Get out a 9X13 dish and spread a small amount of enchilada sauce on the bottom of the dish, just to cover the bottom. 
-Poor some enchilada sauce on a plate for dipping the tortillas.
-Dip the tortilla in enchilada sauce and set in the dish. put about 1/4 cup chopped chicken (just evenly distribute it among the 10 or however many tortillas you have) in the tortilla. Add about 1/8 cup of the cheese (again just evenly distribute it allowing some leftover for the top of the enchiladas when done)
-Roll up the tortilla and continue this process with the remaining tortillas. Poor remaining enchilada sauce over the top of the dish (helps give flavor and keep them from getting too dried out while cooking). 
-Sprinkle any remaining chicken on the top and then top with remaining shredded cheese. 
-Cook in the oven for 20-30 minutes or until hot and bubble and heated through. 
ENJOY! :)
Using these ingredients, I calculated each enchilada to be 
4 pts
and these are big! YUM! Obviously 
BE SURE 
to add any points for any of the optional things you choose to add, unless it's salsa or onions or small amount of fat free sour cream :)
Do KNOW that you NEED to calculate your own points if you use different brands of ingredients, etc.